Forecast for the Tennessee Housing Market in 2024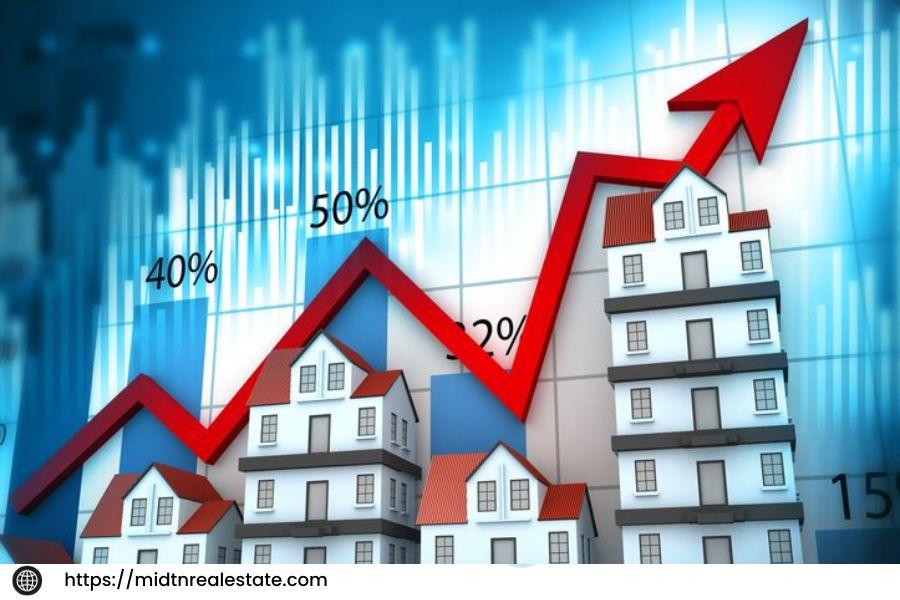 All right, folks, let's dive into the Middle Tennessee homes scene for 2024. We've got a lot to cover, from prices to inventory and all the juicy opportunities in between. So, grab your real estate hats, and let's get started. In this article, our experts at Middle Tennessee Real Estate will explain the housing market forecast for 2024.
Middle Tennessee Homes and Housing Market Forecast
Price Predictions
Now, let's talk money. Home prices have been on a steady incline, especially in hotspots like Nashville, Memphis, and Knoxville. 2024 is looking to keep the trend alive, but don't expect a skyrocketing surge - it might just slow down as compared to previous years. Blame it on those rising interest rates, and they're playing a role in keeping things in check.
Inventory Ins and Outs
Inventory, or rather the lack of it, has been a stubborn issue in Tennessee. Brace yourselves; it should be looking better in 2024, especially in the happening urban zones. Builders need help to keep up with the demand, leaving us with a shortage of available homes and land for sale in Middle Tennessee. This could mean some fierce competition among buyers, maybe even bidding wars.
Renting Rendezvous
Now, only some people are looking to buy, and that's where the rental market comes in. With home prices on the upswing, renting might be the smarter move for some. So, if you're thinking of investing, keep an eye on the rental scene, especially in areas with thriving job markets and universities. It's a whole different ball game, but one that might pay off.
Interest Rates: The Game Changer
Interest rates, my friends, hold some serious sway in 2024. If they decide to climb, which the experts suspect, it's going to cost buyers more to borrow. This could put a bitter on the pace of home sales and price hikes. But remember, the economy's a fickle thing, so keep an eye out for those twists and turns.
People Power
Tennessee's been pulling in folks from all corners, and 2024 won't be any different. Jobs, cost of living, and a quality life - that's the Tennessee trio that keeps the crowd coming. More people mean more demand for housing, especially in cities like Nashville and Chattanooga. Our experts at Middle Tennessee Real Estate suggest that you brace yourselves for a competitive market.
Tech and the Economy
Nashville's been earning its stripes as the "Silicon Valley of the South," and that trend's not slowing down in 2024. Tech companies are setting up shop, and that means more jobs and more demand for Middle Tennessee homes. Watch out for the ripple effect on suburbs and smaller cities nearby.
Green and Clean
Sustainability is the name of the game in 2024. Buyers are all about those energy-efficient homes that save both the planet and your wallet. Expect to see builders going green with eco-friendly features. Yeah, they might cost a bit more upfront, but trust me, those lower energy bills will make it worth your while.
So, there you have it, folks. Tennessee's housing market in 2024 is shaping up to be quite the ride. Prices are up, inventory's tight, and there are some golden opportunities in the rental market. Keep an eye on interest rates, embrace the growth, and don't shy away from sustainability. It's going to be a dynamic year, but with the right know-how from our experts by visiting our website, you'll come out on top and find the right Middle Tennessee homes.
H3- Frequently Asked Questions
Is it a good time to buy a home in Tennessee in 2024?
Despite rising prices, Tennessee offers a dynamic market with strong potential for appreciation. Just be prepared for some competition.
How can I navigate the limited housing inventory in popular areas?
It's a challenge but possible. Consider working with a skilled realtor who knows the market well, and be ready to act swiftly when you find suitable Middle Tennessee homes.
What impact will rising interest rates have on my home purchase?
Higher rates mean higher borrowing costs, potentially affecting your purchasing power. It's wise to consult a financial advisor and keep an eye on market trends.
Are there any incentives for first-time buyers or low-income families?
Many cities in Tennessee are implementing affordable housing initiatives. These may include subsidies, tax breaks, and zoning changes to support affordable options.
How can I ensure I'm investing in an energy-efficient home?
Look for features like energy-efficient windows, insulation, and appliances. Additionally, inquire about any green certifications the property may have received.